Product Description

T-Kernel/µITRON-based system development suite
About eBinder
eBinder is a development suite for embedded software. It is based on T-Kernel or µITRON – Japan's most frequently used RTOSes.
eBinder offers development tools and support modules configured for the target platform. With tools and features designed specifically for RTOSes, you can solve system issues quickly and use the OS to its potential.
Functional Safety
eBinder is a highly reliable development suite that has been developed to meet the highest level of safety requirements defined in ISO 26262/IEC 61508, and expected to obtain third-party functional safety certification. eSOL's eT-Kernel RTOS has been certified for ISO 26262 Automotive Safety Integrity Level (ASIL D) and IEC 61508 Safety Integrity Level 4 (SIL 4) – the most stringent level defined in these functional safety standards. By using the eT-Kernel and eBinder, users can reduce the cost of conformance to the functional safety certifications, and develop highly reliable application.
eT-Kernel Platform Safety Package
eSOL provides eT-Kernel Platform Safety Package, which consists of safety reports and safety manuals, for users to conform to functional safety standards. The lineup of eT-Kernel Platform Safety Package is as follows;
Automotive Safety Package (ISO 26262-compliant)
Industrial Safety Package (IEC 61508-compliant)
Medical Safety Package (IEC 62304-compliant)
*Expected to be launched in 2015
Features
eBinder is based on the iterative development model.
To find potential problems as you proceed with development, you can verify the system after each task or feature is added. This model enables you to find a problem at an earlier stage, and maintain reliable quality on your system.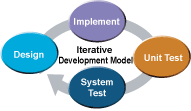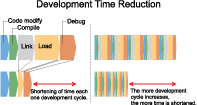 Dynamic loading and run-time task creation feature:
To dramatically reduce development time, you can load and unload individual objects under test without linking and reloading the whole system.
eBinder supports processes and memory protection.
In addition to debugging by tasks, you can debug by processes or loadable modules.
eBinder supports development on multi-core processors.
Just like development on a single-core processor, you can utilize eBinder's task-based iterative development model, and debug both SMP and AMP programs.
eBinder's "platform packaging (PLP) feature" assists in platform development.
A platform here means the verified boot image, including RTOS, BIOS, basic middleware, and the related configurations. A PLP can be used to control the usage environment. Files may be restricted from rebuilding by making them binary-only. This will avoid the unintentional modification of platform modules or settings. A PLP can also make version control easier.
eBinder encourages software reuse.
In addition to OS modules and middleware, you can reuse user libraries and user device drivers. This scheme helps you use existing software assets to ensure efficient development.